Affecting cone crusher production capacity and performance factors
Pay attention to the following factors when using hydraulic cone crusher can increase the production capacity and performance:
● According to materialsto choose correct broken crushing cavity;
● Size of feed ratio appropriate;
● In the crushing chamber 360 degree range feeding evenly distributed;
● Automatic control device;
● crusher discharge area unobstructed;
● conveyor crusher specifications and maximum processing capacity to adapt;
● Select the appropriate pre-screening and closed screening sieve specifications;
The following factors will reduce the hydraulic cone crusher production capacity:
● less than the feed to the discharge opening of the crusher fines over 10% of production capacity;
● give compound containing viscous material;
● Missing feed control;
● along the crushing chamber surrounding the uneven distribution of the feed;
● Unused recommended power;
● System screening capacity is insufficient;
● crusher discharge zone is not smooth;
● strong or too tough materials.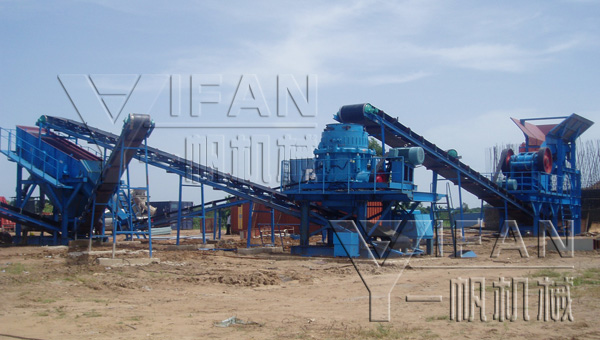 Yifan Machinery introduces you to improve hydraulic cone crusher production capacity and lower hydraulic cone crusher production capacity factors, make proper use of your cone crusher. If you have any need, please give us a message online.
Welcome to Yifan Machinery cone crusher website for the knowledge of the crusher.Here is our site editor free upload some of the information, if you want to learn more comprehensive the crusher product information and prices, you can give us a message in the comment box below. Every day we check for messages received your message back to you in the first time.Has received 1378, has completed Replies 1378, effective 1367.