South African customers visiting Yifan Machinery investigation crushing and screening equipment
October 27, 2014,the South African delegation,a pedestrian came Ying Yang,the production strength Zhengzhou Yifan Machinery Co., Ltd., product quality and to understand,is seeking a production line project cooperation.The visit by the director of domestic Zhang, Li,accompanied by reception.
It is understood that South Africa is one of the world's five major mineral country,its rich mineral resources of the world famous,is now proven and exploitation of mineral
content has reached more than 70 kinds.Based on the background of such a huge amount of resources that the customers visiting South Africa,is looking for a reliable company in South Africa cooperation a stone production line.To this end,Li led the South African delegation,visited the company's focus crusher equipment and production areas for specific production process,and finished goods area came to visit the Sand,crusher,and the company applied green environmental protection industry equipment,mobile crushing station.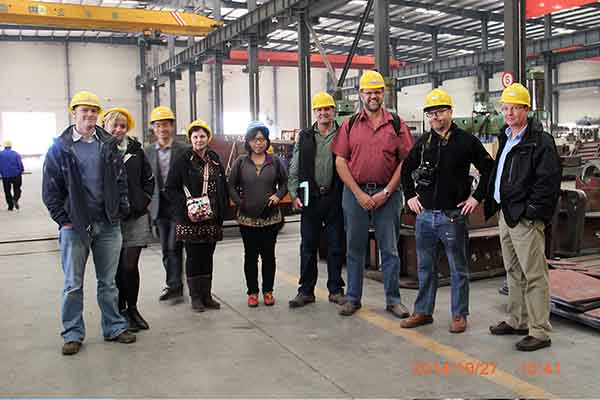 Yifan mechanical crushing and screening equipment for many years focused on research and development,manufacturing,the biggest advantage of company equipment that low energy consumption,environmental protection,compared with the same industry with the type of equipment that can save 30% to 40%.Meanwhile Yifan machinery production equipment due to a machine can,little pollution,the official China mining machinery industry pioneer new environmentally friendly equipment.The point is to get the South African delegation customers praise and praise.
After customers to visit the product area,the company went to the second floor conference room,South Africa,on behalf of the delegation members said:Yifan machinery crushing and screening equipment is not only energy-saving effect is obvious,and cost savings,it is firm and your company determination.Subsequently,other members of the delegation were also on Yifan Machinery gave a high evaluation to witness the company's high-efficiency production processes,learned Yifan real strength has the ability to do this project,and that this trip is not true this line.
Welcome to Yifan Machinery cone crusher website for the knowledge of the crusher.Here is our site editor free upload some of the information, if you want to learn more comprehensive the crusher product information and prices, you can give us a message in the comment box below. Every day we check for messages received your message back to you in the first time.Has received 1378, has completed Replies 1378, effective 1367.