The operation and maintenance of cone crusher
Before the cone crusher begins to work, staff must wear work clothes well, wear safety helmet, gloves, masks and other protective equipment, then examine whether the screw of every part is loose or not, and whether the electrical equipment is surrounded by the obstacles, and whether there are ore or debris or not in crushing cavity, and the degree of the tension, and whether all spring screw are tight or not. and check whether the gap of the discharge gap is in line with the requirements or not, and check whether the electrical source is normal or not, and the electrical protection system is perfect or not.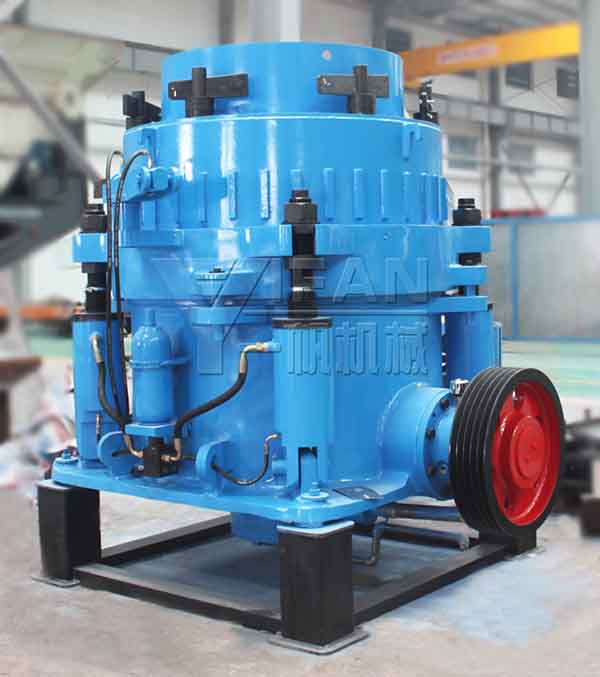 During the operation, checking the working situation of engine lubricating system of the cone crusher, and observing the oilof oil return pipe, and starting the main motor after the quality of the oil meets the requirements. Checking the lubrication station every hour for the temperature of oil return pipe road ,and the oil return supply,and the height of the oil surface. After crusher works for 1 - 2 minutes without load, the belt can be opened, and it's necessary to prevent other things from entering into the crushing cavity.If metal objects fall into the crushing cavity, they should be taken out immediately. In additation, in the process of operation, lubrication system should be inspected regularly.
When the cone crusher stop working, the feeding should be stopped first.After excluding all ores in the cavity, the main motor of the crusher should be stopped,then stoping the pump motor.After stopping the machine, workers should examine carefully every part of the machine and solve the problem as soon as the problem are found.
Welcome to Yifan Machinery cone crusher website for the knowledge of the crusher.Here is our site editor free upload some of the information, if you want to learn more comprehensive the crusher product information and prices, you can give us a message in the comment box below. Every day we check for messages received your message back to you in the first time.Has received 1378, has completed Replies 1378, effective 1367.