SMG cone crusher high performance and price is popular in mining machinery market.
Single-cylinder hydraulic cone crusher is the large demand equipment in mining machinery,accounting for 41.2% of industry sales. Proportion will gradually expand in the future,so it is visible that single-cylinder hydraulic cone crusher outlook in the market is so broad.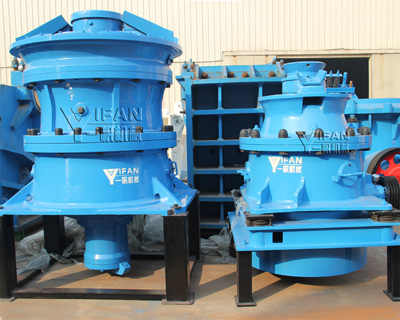 SMG hydraulic cone crusher is designed by Yifan machinery engineer with a variety of crushing chamber capable devices,by selecting the appropriate type of crushing chamber and eccentricity.It can satisfy the customer's production requirements, to achieve high yields .SMG hydraulic cone crusher has four advantages as following:
1.high-efficiency energy-saving and environmental protection. Fixed spindle, a small spherical structure optimization reciprocal axis, than the old spring cone crusher efficiency 5% -15%.
2.significantly increasing production.The crushing stroke, crushing speed and crushing chamber design the perfect combination of shape, than the old spring cone crusher high yield of 35% -60%
3.more uniform grain size. Using the unique laminated crushing principle, produce crushing effect between the particles, reducing flakiness stones, more uniform grain size.
4.more stable operation. When there is iron and other hard objects can not be broken into the machine, the over iron protection device will automatically be released, and then reset immediately.
Yifan Machinery R & D SMG hydraulic cone crusher is fully realized the entire intelligent control, the crusher is always in top working condition, and to achieve internal and external taper liner wear of automatic compensation function, this function is spring cone crusher and multi-cylinder unattainable. Arguably the most advanced cone crusher equipment.
Welcome to Yifan Machinery cone crusher website for the knowledge of the crusher.Here is our site editor free upload some of the information, if you want to learn more comprehensive the crusher product information and prices, you can give us a message in the comment box below. Every day we check for messages received your message back to you in the first time.Has received 1378, has completed Replies 1378, effective 1367.