The difference between the hydraulic cone crusher and spring cone crusher
Hydraulic cone crusher is to drive the transmission shaft and cone part of the eccentric shaft to do periodic swing movement or coupling through the motor belt wheel when it works. When the materials enter into the crushing cavity from the feed, and are extruded, grinded, rubbed by the eccentric shaft and the rolling mortar wall.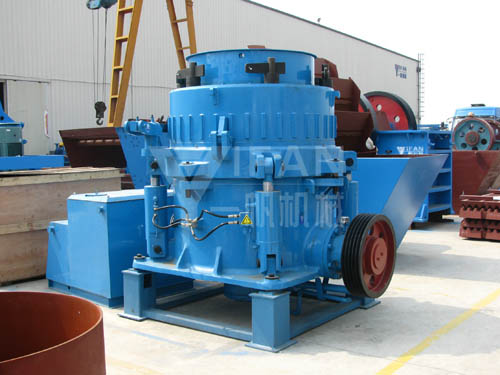 Large conical gear spring cone crusher revolves the eccentric sleeve rotating through hydraulic coupler, the small bevel gear driving eccentric sleeve of the bottom, resulting in the cone rotary swing to crush materials. The spindle of the crusher is not moving, just bear the crushing force. The crusher spindle is stationary and the eccentric bushing transmiss crushing force, so the structure can withstand the big crushing force, and it is very adapt to fine crushing and ultrafine crushing because of its big crushing force of ultrafine crushing. The crusher is suitable for crushing ore dressing plant metal mines in third segments, or fourth stage crushing; used in building material or non-metallic mining and civil engineering. Especially the area which natural sand in civil engineering required is in short supply.
These two kinds of cone crushers that Zhengzhou Yifan machinery produce and design are excellent at good design, good quality, good service,which has been recognized by the vast number of users. I believe that as long as they adhere to the belief of their own belief, and never stop,and they will be able to get their own brilliant eventually.
Welcome to Yifan Machinery cone crusher website for the knowledge of the crusher.Here is our site editor free upload some of the information, if you want to learn more comprehensive the crusher product information and prices, you can give us a message in the comment box below. Every day we check for messages received your message back to you in the first time.Has received 1378, has completed Replies 1378, effective 1367.