Application of SMG hydraulic cone crusher in production of concrete aggregate.
Zhengzhou Yifan Machinery
SMG hydraulic cone crusher
always walk in the forefront of mining machinery market in domestic; according to market needs, it forms a cpmplete product chain which gives priority to SMG hydraulic cone crusher,
sand making machine
, mobile crushing station and construction waste treatment equipment and makes vibrating screen , feeder and complete product line as complementary products. Now,Zhengzhou Yifan Machinery has been main production and export base of domestic stone crushing machinery, not only injecting fresh blood to mining machinery industry, and also promoting the further development of crusher industry.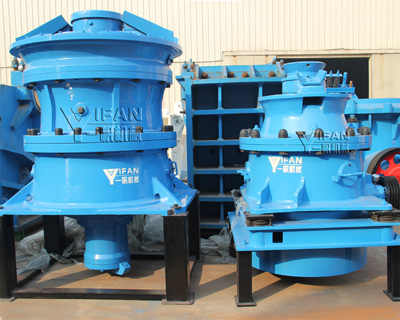 Zhengzhou Yifan hydraulic cone crusher has the advantages ,like the reasonable structure,advanced crushing principle and technical datas,reliable work and low cost.Strong crushing ability,high efficiency productivity,high capacity.Hydraulic system is reliable,provide safe and effective overload protection.Types of crushing cavity are for wide range of product size requirement.Use hydraulic adjustment and hydraulic clean cavity setting,much increase automation.Replace the mantle and concave without any compounds.
Our SMG hydraulic
cone crusher
is very popular domestic and overseas,like Thailand,Indonesia,Malaysia,Philippines,Vietnam,etc.Any hydraulic cone crusher need ,welcome to contact Yifan machine company .
Welcome to Yifan Machinery cone crusher website for the knowledge of the crusher.Here is our site editor free upload some of the information, if you want to learn more comprehensive the crusher product information and prices, you can give us a message in the comment box below. Every day we check for messages received your message back to you in the first time.Has received 1378, has completed Replies 1378, effective 1367.