Hydraulic cone crusher has a good reputation in the industry.
Hydraulic cone crusher
is mainly used in secondary crushing and fine crushing, with high efficiency advantages.Hydraulic cone crusher produced by Yifan Machinery is the introducing of latest technology, is the world's most advanced
cone crusher
.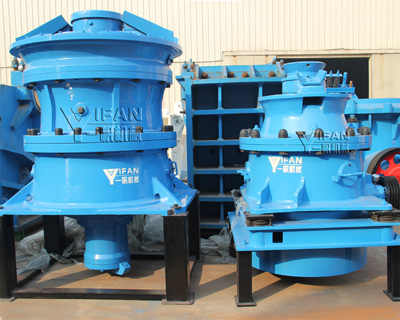 Yifan Machinery efficient hydraulic cone crusher used in construction rubble, sand process, especially crushing basalt and other hard materials, not only high efficiency, low production costs, and good grain crushing products, sand and gravel aggregates high quality. Another efficient cone crusher is also used in black, non-ferrous metal beneficiation process, can effectively reduce the size of ore into the mill, multi-break less grinding, both to improve the mill's production capacity, and energy-saving, section steel, a substantial increase processing plant for money.
Currently Yifan company produces a variety of hydraulic cone crusher crushing chamber, to choose by customers selecting the appropriate type of crushing chamber and eccentricity,which can satisfy the customer's production requirements to achieve high yields. In the case of packed feeding,hydraulic cone crusher can achieve lamination broken, so that the final product shape better, more cubic particle content.Yifan hydraulic cone crusher is your best choice.
Welcome to Yifan Machinery cone crusher website for the knowledge of the crusher.Here is our site editor free upload some of the information, if you want to learn more comprehensive the crusher product information and prices, you can give us a message in the comment box below. Every day we check for messages received your message back to you in the first time.Has received 1378, has completed Replies 1378, effective 1367.