YIFAN spring cone crusher achieve Technology innovation
As a large-scale professional production base,YIFAN devote itself to the products' renewal,reseach and development constantly. YIFAN absorbs the domestic and foreign technology essence, bases on the market demand,combines with the superiority of Simons cone crusher and introduce a new, more efficient spring cone crusher.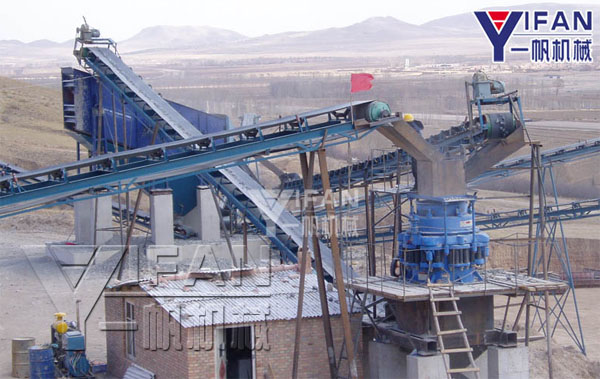 YIFAN Machinery cone crusher in stone production line using the site
YIFAN new efficient spring cone crusher hold intellectual property, use the most advanced design idea,keep the Simons cone crusher structure of using spring to secure ,adopt the structural feature of spindle and frame fixed、eccentric collar around the spindle.At the same time, YIFAN spring cone crusher optimize the structure of crushing chamber and crushing cone,making the machine of perfect over-all structure、stable performance,reliable operation and convenient service.
Product granularity of YIFAN new cone crusher, efficient spring cone crusher is fine and the minimum adjustable range of discharge gate is 3mm,the minimum measurement of discharge hole is 10mm,reducing the final granularity of crushed products,increasing the content of fine grains and reducing the burden of follow-up abrasive powder and other processes.Therefore,this cone crusher can be used for hard abrasive powder's medium crushing and fine crushing.cone crusher can also be used to make manufactured sand.
YIFAN new efficient spring cone crusher has coarse,medium and fine cavity types and complete models.New efficient spring cone crusher efficiency ratio is 15% higher than the same cone crusher product category making it the perfect annotation of more crushing and less trituration
Thank you for your interest in YiFan. Please use any of the methods below to get in touch with us.
Add: The Middle of Zhengyuan Road, Xingyang Eastern Development Zone.
zip:450100
E-mail:yifanseo@yfmac.com
MSN On line: yifancrusher@yahoo.cn
ICQ: 639607958 QQ: 2502761202
Tel: +86-371-64966831 Fax: +86-371-64628872
The article by Cone Crusher,Cone Crushers Yifan Machinery Editor: http://www.conecrusher.org/, please indicate the source , little effort , thank you .
Welcome to Yifan Machinery cone crusher website for the knowledge of the crusher.Here is our site editor free upload some of the information, if you want to learn more comprehensive the crusher product information and prices, you can give us a message in the comment box below. Every day we check for messages received your message back to you in the first time.Has received 1378, has completed Replies 1378, effective 1367.